Theobroma cacao - The True Chocolate Tree - is an ultra premium plant for your collection, bragging rights & growing your own chocolate pods

The worldwide glory and fame of chocolate starts with the name, Theobroma cacao, which in Latin means "Food of the Gods"
Chocolate for taste (candy, ice cream, drinks)

Chocolate for the ladies (love)

Chocolate for health (world's most powerful antioxidant)
After many email requests for this fantastic tree, today you may order your very own Theobroma cacao true chocolate tree

Is this the same tree the Aztecs brewed up chocolate drinks? ...Yes
And made the Spaniards go crazy for the taste ? ...Yes
Is this the tree candy makers use to make chocolate? ...Yes
Can I make my own chocolate at home from the seeds ? ...Yes
Fruits start off green then turn yellow, reddish or orange
Chocolate is a small tree, 12-20 feet tall at maturity. The plant requires always warm tropical temperatures, wind protection, rich soil, good water and screened or shaded afternoon sun protection for its leaves
If you have...
a nice tree to shade your chocolate tree

a screened pool or screened patio area

or you can also have your Chocolate Tree in a pot. Plants on hand and now shipping have been fully shade grown
For you folks who have greenhouses, the chocolate tree would be easy because you already have warmth and climate control. Otherwise, outdoors year around, zone 10 warmth is required
Flowering is along the wood like this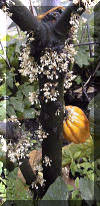 click pic to enlarge
Maturing chocolate trees look like this


click pic to enlarge
New leaf growth is a pale salmon color


brand new leaf, click pic to enlarge
Yes .....that droopy leaf look you see in the
pics above is 100% natural to the species


Trees now shipping came from
these pods and seeds
click pic to enlarge
Chocolate trees now shipping look like this


click pic to enlarge
If you want this mega exclusive tree, today is your opportunity to grow your own real chocolate

For pre-purchase PayPal information, click here



As always, you receive complete care info
included with your package
Shipping Schedule
| | |
| --- | --- |
| One Theobroma cacao, True Chocolate tree, $45.00 total with postage & packing included | sold out |
To pay by check, please click here